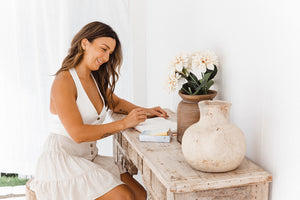 "Disarmingly real and relatable"
Words of Inspiration
Revie Jane Schulz is a modern business woman, professional speaker, writer, fitness coach, devoted wife and mother of two.
She unassumingly shares learnings and experiences on her journey through fitness, motherhood, overcoming childhood adversity, anxiety and struggle with self-worth. In person, her infectiously fun-loving and very down-to-earth personality captivates, and this translates through her writing where she touches readers through words of inspiration from her own journey, personal lessons, and relatable life happenstance. Regularly contributing as a columnist for Mama Disrupt Magazine, Revie also contributes content for blogs, e-magazines, media and her own series of fitness programs.
If you'd like to work with Revie for an upcoming publication, please get in touch for her availability.